Hey there e-tailers! We're thrilled to roll out some exciting new features that will turbocharge your communication game. Get ready to dazzle your customers with eye-catching announcements that drive engagement and boost sales. Say hello to our brand-new suite of announcement pop ups! 🎊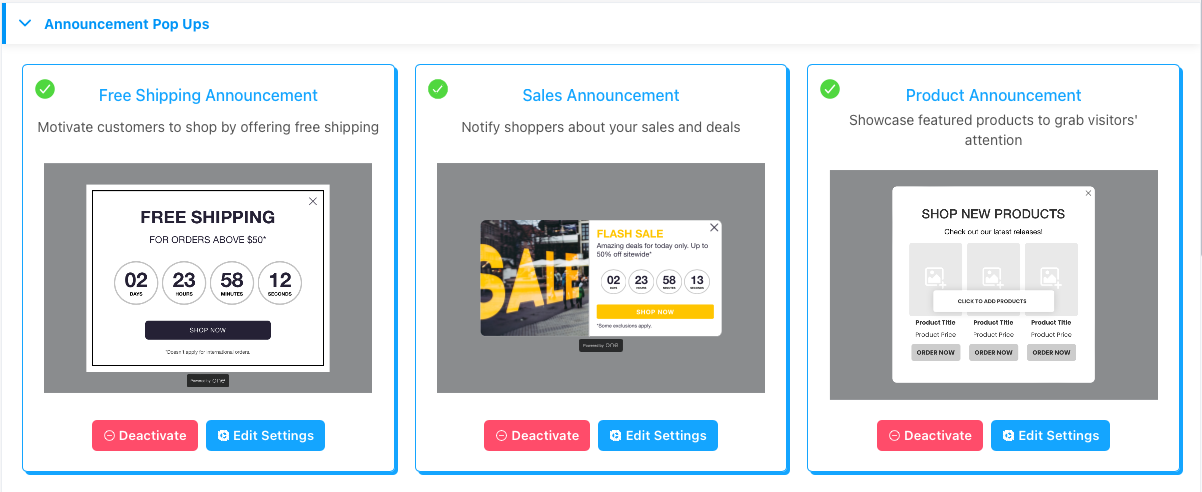 🌟
Free Shipping Announcement:
Let's kick things off with a bang! Now you can easily inform your customers about the conditions they need to meet to unlock that coveted free shipping. It's the perfect way to encourage them to add a few extra items to their carts. After all, who can resist the allure of FREE shipping? 💃 Watch the
tutorial video here
.
⏰
Sales Announcement:
Time is of the essence, and so is this exciting feature! Spread the word about your sizzling sales in style. With our powerful Sales Announcement pop up, you can communicate all the juicy details and even add a snazzy countdown timer. Watch as the sense of urgency gets pulses racing and sales skyrocket! 🎁 Watch the
tutorial video here
.
📢
Product Announcement:
Drumroll, please! 🥁 Shine a spotlight on your star products with our fantastic Product Announcement pop up. Whether you want to highlight new arrivals, best-sellers, or exclusive items, this tool will guide your customers directly to the goodies they won't want to miss. It's like having your very own online spotlight! ✨ Watch the
tutorial video here
.
All these pop ups are announcement-based and don't collect any subscriber information. Your customers can enjoy the benefits without any privacy concerns. But fear not, savvy store owners! You can still track the effectiveness of these pop ups in the analytics section of our app. Dive into data like views and clicks to see just how well they're doing their magic! 📊
So, what are you waiting for? Unleash the power of Pop-Up Power-Ups and revolutionize the way you communicate with your customers. Get ready to captivate, convert, and conquer the world of online retail! 🌐💪
P.S. Don't forget to share your success stories with us. We love to hear how our Pop-Up Power-Ups are transforming your online stores into unstoppable retail forces! 😍